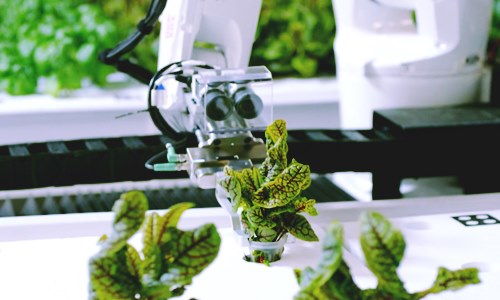 Iron Ox, a California based startup that uses agricultural robots for indoor farming is about to open its fully autonomous production farm, which will be the first of its kind. The system has been tested on a small scale with success and the company is planning to soon start selling its produce.
At present, a number of leafy vegetables including kale, romaine, basil, cilantro, butterhead and chives are being grown in the farm by a 1,000-pound machine called Angus that can move heavy hydroponic boxes which are being used to grow the plants and a robotic arm called Iron Ox that mainly harvests the produce.
Iron Ox CEO and co-founder Jon Binney and Brandon Alexander have worked in a number of companies that have focused on developing robots that are technological wonders rather than useful. The duo decided to work on building farming robots as they wanted to create not only a good business but also technology that can be used for social betterment. In the U.S., most of the leafy vegetables mentioned above are grown in California and Arizona during the winter months from where they have to travel for over 2,000 miles to get to the East Coast. Alexander has been reported to say that this is the reason the startup is working to move farming indoors and decentralize farming. An indoor hydroponic farm has been found to achieve 30 times per acre more than an outdoor farm annually, occupying much less space.
However, running an indoor farm on LED lighting proved to be too expensive to keep the operation profitable. Therefore, Iron Ox will be using traditional greenhouses that will be improved further by LED lighting. But since greenhouses cannot be stacked on top of each other, the autonomous farms will possibly be located outside the city, which would be still a better option than shipping produce from thousands of miles away.
Iron Ox has reportedly raised $5 million which will now be used to sell its produce and will be slowly upgrading to larger locations. It is being speculated that Iron Ox will eventually be able to provide a solution to the labor shortage in the agriculture industry.