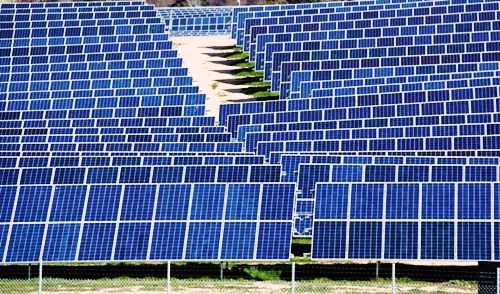 Numurkah solar farm, reported to be the world's largest solar facility has apparently reached financial closure and is expected to begin construction next week. According to a deal signed with GFG Alliance and French developer Neoen, the USD 198 million facility will power the Laverton step works in Victoria and provide one Gigawatt of renewable energy assets in Australia.
Franck Woitiez, GM of Neoen Australia stated that Numurkah is an important project for the company as it will be their first Gigawatt project in Australia. In addition, the company is reported to be in a long-term partnership with solar panel and battery storage firm Zen Energy and the Victorian Government, which will support the projects' aim towards delivering reliable, sustainable and competitive energy to all Australians.
For the record, Neoen Australia also owns the Hornsdale Power Reserve, a 315MW windfarm in south Australia which is equipped with Tesla's big batteries, and has developed the Griffith and Parkes solar farms and the Dubbo solar hub.
According to Ian Learmonth, CEO of Clean Energy Finance Corporation, high gas prices, high grid electricity prices and unfavorable contracting conditions has led to pressure on tight operating margins for manufacturers.
Incidentally, Ian Learmonth's firm is investing USD 56 million in loan towards the project and considers it to be an example of solar energy being a cost-effective solution for energy demanding manufacturers of Victoria.
Similarly, on Friday Lily D'Ambrosio, Victoria's energy minister said that they support the renewable energy sector as it will eventually provide affordable clean energy, create better jobs for locals, reduce energy prices and emissions.
According to reliable sources, Downer EDI has been awarded the EPC (engineering, procurement and construction) contract for the power plant and is expected to create up to 300 new jobs in the region. The solar farm is rated 128MW of DC and 100MW of AC and will be capable to generate 255GWh a year. Reports suggest that the first panels will be installed in October, and is expected to be completed by next May.