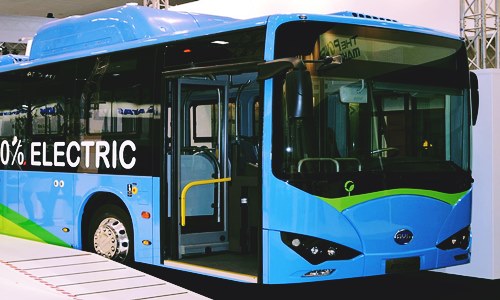 The Eco-Bus is introduced in Abu Dhabi and built to suit the Middle Eastern weather.
UAE based renewable energy company Future Energy Company (Masdar) recently launched a fully electric passenger bus, which the first of its kind in the capital city of Abu Dhabi as the United Arab Emirates progresses on the path of meeting its clean energy target.
According to the Reuters, UAE has a clean energy target of 27% which it plans to fulfill by 2021. Masdar, a wholly-owned subsidiary of Mubadala Investment Company of Abu Dhabi has reportedly invested approximately $8.5 billion inrenewable energyprojects in the UAE as well as abroad.
The electric bus has been jointly developed by Masdar,SiemensMiddle East and Hafilat Industry LLC, the Abu Dhabi-based bus manufacturer. It can accommodate 30 passengers and has a range of 93 miles or 150 kilometers. The bus is also equipped with solar panels that can power the auxiliary systems of the vehicle. It will serve a six-stop route within the city.
The vehicle has lightweight aluminum body that is designed to withstand the heat and humidity of the country's climate, one of the major challenges faced by electric vehicles. It also has an efficient on-board air-conditioning system and a unique battery life optimizing water-cooling system.
In an official statement it was declared that the initiative is a part of a series of future projects meant to enhance the Abu Dhabi intelligent transportation system, helping to make it a part of the daily lives of those who avail public transport. While Siemens provided the propulsion technology used in the Eco-Bus and Hafilat designed and built it, Abu Dhabi's Department of Transport is reported to have heavy involvement in the pilot phase of the Eco-Bus, which included extensive testing and recording user feedback.
Yousef Baselaib, executive director, Sustainable Real Estate, Masdar has been quoted to say that the Eco-Bus is a significant milestone for UAE as it helps the country get closer to meeting its sustainability targets which includes environmentally friendly mobility.