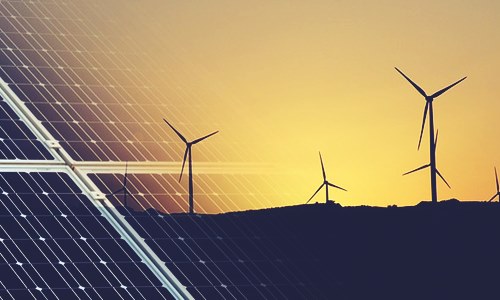 'Worldwide investment in clean energy reached USD 138.2 billion in the first six months of 2018' - reports Bloomberg New Energy Finance. A major portion of this investment has been contributed by technology giants in order to aid the transition to a low carbon economy and accelerate the fundamental transformation of the global energy industry.
2018 has been an eventful year as far as investments in renewables are concerned. Below is a rundown how the top three technology magnates have contributed their bit toward the renewable ecosphere:
Facebook
As part of its pledge to tackle climate change, the social media colossus has recently announced to lower its GHG emissions by 75% and run its operations on 100% renewable energy by the end of 2020. A signatory of the global initiative RE100, Facebook is on its way to establish itself as one of the largest corporate purchasers of renewable energy. The company has reportedly signed contracts for more than 3 GW of new solar and wind energy projects which are being built on the same grid as its data centers.
Samsung
Building on its strong progress of operational emissions reductions, the South Korean multinational has recently announced to power all of its office buildings and factories in the United States, China, and Europe completely by renewable energy till the end of 2020. The firm has recently announced to deploy solar panels on an area of 42,000 sq.mt at its headquarters and additional geothermal power generation plants at its satellite campuses in Pyeongtaek and Hwaseong by 2019 and 2020, respectively.
Google 
In line with its objective to purchase as much renewable energy as it uses across its office complexes and 13 data centers, the search engine major has recently declared to have inked significant contracts to source 3 GW of output from clean energy projects. The company would reportedly continue to work with groups like Re-Source Platform and Renewable Energy Buyers Alliance to facilitate greater access to renewably-sourced energy.
Powered by 100% renewable energy: Other technology companies that have successfully transitioned to a more sustainable future
Apple - The technology behemoth has been powering its global facilities across 43 nations completely with renewable electricity since April 2018. It now plans to install more than 4 GW of new clean energy worldwide by 2020.
Microsoft - Leading the way to a low carbon economy, the software giant's global operations are being entirely powered by clean energy since 2014.
SAP - Regarded as one of the most prominent enterprises to have utilized clean energy in an effective way, the multinational software corporation achieved its goal to source 100% renewable power in 2014.
Autodesk - The U.S. based technology solutions provider reached its target of powering all of its facilities completely by renewable electricity four years ahead of schedule in 2016.
Technology firms committed to go 100% renewable in the next few years
Adobe - Committed to power its global operations and digital delivery of products entirely with renewable electricity, the leader in software solutions aims to go 100% renewable by 2035.
Infosys - The Indian IT major aims to source its energy requirements entirely from renewable sources by 2020.
Fujitsu - With an interim target of sourcing 40% renewable power to run its facilities by 2030, the Japanese tech giant has set a target to generate 100% renewable electricity by 2050.