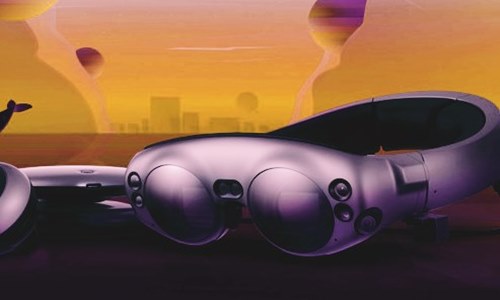 Sigur Rós, an Icelandic avant-rock band from Reykjavìk has reportedly teamed up with a U.S. based tech start-up firm Magic Leap to develop an augmented-reality powered audiovisual experience called Tónandi. Apparently, the application will feature new music recorded by the rock band that users can manipulate by interacting with the surrounding visuals.
According to sources, the new product release is a result of a more than five years of collaboration & development for the Magic Leap One headset.
Sigur Rós and Magic Leap have been secretly working on a new audiovisual project that tests the limits of mixed reality, while offering a tantalizing preview of how one may soon interact with music as a medium. The Tónandi app will be soon available for download on Magic Leap's device and is expected to showcase the VR environment as a congregation of lifelike organisms.
A glimpse of the experience which was provided earlier featured creatures somewhat similar to jellyfish, cite sources. The band describes the new app as a place in which spatial sounds are visible all around and are ready to respond to every interaction.
If technology experts are to be believed, the Silicon Valley top shots are currently betting big on AR and VR glasses that could replace Alexa & Siri, with a personal digital assistant that looks as if someone is present in the room. They further claim that with machine learning and their power of illusion, these new set of hi-tech devices could herald a paradigm economic and cultural shift.
In other news, Magic Leap has also recently announced its release of Magic Leap One, which the company has begun to ship as its foremost hardware product. The much-awaited headsets won't be cheap and will be initially available for $2,295 across six cities including Miami, Chicago, New York, Los Angeles, Seattle, and San Francisco.