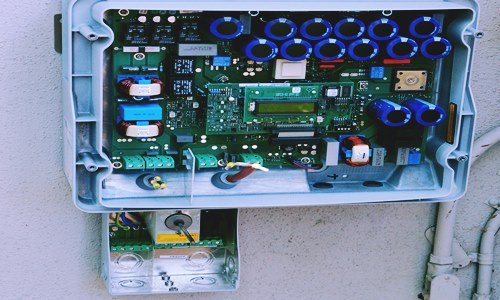 In a bid to facilitate innovation in PV inverter technology, solar PV inverter magnate GoodWe, in collaboration with ON semiconductor recently announced the inauguration of a state-of-the-art laboratory.
The collaboration apparently aims to build a platform for bringing about innovations in PV inverter technology. The two companies, through this agreement, plan to promote the application and breakthrough of leading-edge PV inverter technology.
For the uninitiated, ON Semiconductor is one of the renowned suppliers of power device semiconductors and boasts of a product portfolio spanning discrete components such as MOSFETs, IGBTs, wide bandgap (WBG), diodes, as well as power modules such as IPM (Intelligent Power Modules).
As per sources, the opening ceremony witnessed the two parties in question discussing on the market situation post the implementation of new policy in China in tandem with the future developments in the photovoltaic industry. Huang Min, GoodWe's CEO stated that the new policy may greatly influence enterprises in the short run, however, in the long run, the PV industry will definitely undergo a process of subsidy, with market-related operations poised to accomplish long-term development.
Fang Gang, Deputy GM, GoodWe, explained that simulation tests will be conducted in the laboratory for IGBT applications in photovoltaic inverters. The testing will be carried out to ensure the quality of the IGBT and its adaptability to the inverters, and also to check the efficiency and stability of the photovoltaic inverter, he further added.
David Chow, President of ON Semiconductor Asia Pacific affirms GoodWe's strong stance in corporate development and technological innovation and expressed the company's wish to enable deeper cooperation with GoodWe in the future.
If reports are to be believed, a lot of expectations seems to be riding on the collaboration between GoodWe and ON Semiconductor. It is being speculated that both the companies will realize the innovation and breakthrough in inverter technology through in-depth exchanges and cooperation in technology and resources, bringing customers a more unexpected product experience.