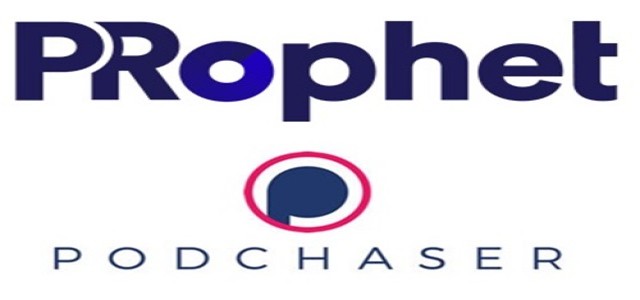 Podchaser, the leading podcast database, expands PRophet's global reach to include thousands of podcast placement opportunities as affiliate relationship expands customer access to both platforms.

NEWS RELEASE BY PROPHET

New York | July 01, 2021 09:00 AM Eastern Daylight Time
MDC Partners' (NASDAQ: MDCA) PRophet, the first-ever AI-driven SaaS platform to help predict earned media interest, sentiment, and spread, announced today an exclusive partnership with Podchaser, the world's most comprehensive podcast database. The companies also agreed to a referral relationship whereby users will have an opportunity to have access to each other's platforms at favorable terms.
The integration of Podchaser's robust data — including audience reach, creator and guest credits, detailed metadata, and more — into the PRophet platform will enable PRophet to apply its proprietary AI-driven analysis against thousands of high authority and highly ranked global podcasts, predicting for PRophet users which podcasts would most likely be interested in covering a pitch or interviewing a guest.
This addition to PRophet's smart database of active, validated journalists from high authority media outlets further expands the ground-breaking platform's predictive capabilities, deployed through a proprietary combination of natural language processing (NLP) and machine learning (ML) AI techniques to help users better assess prospective targets and improve placement rates. Before PRophet, assessing the likelihood of a reporter writing a story rested on professional experience, instinct and some guesswork with no data-driven insights or analysis to guide and backstop pitch strategies.
"With the creation of PRophet, we sought to provide the PR industry with a real-time, advanced technology solution specifically designed to assess the likelihood of story pickup, sentiment and spread," said Aaron Kwittken, founder and CEO of PRophet. "I see both sides of the supply and demand equation, as both a PR professional and a podcast creator myself. I receive dozens of pitches daily, with most of them being relegated to my trash because they are not relevant to my show or listeners. The combination of PRophet and Podchaser will bring new levels of targeting and certainty to PRophet users interested in generating interest from high-value podcasters."
"As the podcast market grows at a breakneck pace and continues to shift the media landscape, our goal is to keep powering the industry through insights and discovery," said Cole Raven, co-founder of Podchaser. "PRophet is at the forefront of transforming the relationship between PR professionals and journalists and we are excited to join forces and be part of their revolutionary platform."
Since its launch at the end of 2020, PRophet's customer base continues to grow and expand, including major brands and agencies large and small. In March, the platform became available to agencies and their clients through PRophet's Agency Partnership Program, allowing account teams and their clients unlimited access and use of the platform together.
Agencies and brands can contact PRophet at [email protected] for a demonstration of the platform's capabilities and request a complimentary trial.
For more information on PRophet, visit www.prprophet.ai.
###
About PRophet
PRophet is the first-ever AI-driven software-as-a-service (SaaS) platform designed by and for the PR community that samples past stories to better predict future media interest, sentiment, and spread through natural language processing and machine learning. PRophet is owned by Ahteed, LLC, an MDC Ventures company, and was founded by marketing industry thought leader and entrepreneur Aaron Kwittken alongside former political strategist, technologist, and author Mark Penn, currently President of Stagwell Group and chairman and CEO of MDC Partners and formerly with Microsoft. To learn more, visit prprophet.ai/home.
About Podchaser
Podchaser is the world's most comprehensive podcast database — collecting, enriching, and distributing podcast insights to power discovery for listeners, podcasters, and brands. Learn more at https://www.podchaser.com
Contact Details
Julie Strickland
+1 917-860-7414
Company Website