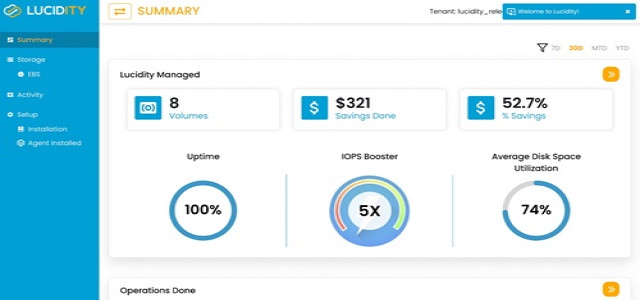 Bangalore, India | September 08, 2022 - Nearly half of businesses are migrating their data to the cloud to create a competitive advantage and remain innovative. However, Cloud comes with its own set of challenges if not managed well. And to deliver the elusive ROI from cloud, cloud storage orchestration platform Lucidity has been helping businesses get truly cloud-native. The startup is today announcing a $5.3M seed funding round led by AlphaWave Investments with participation from Beenext, Blume Ventures, BoldCapital, NuVentures and Sparrow Capital to help ramp its international expansion plans. This funding round follows a $500k pre-seed round led by Beenext in 2021 along with 10+ super angels.
Lucidity has built a "NoOps" orchestration layer that can sit on top of cloud storage making storage faster, efficient and cheaper, while enabling cloud-native functionalities. Using Lucidity, businesses will be able to unlock their block storage capabilities making it 70% cheaper and 10X faster with zero code changes and at the click of a button. Lucidity takes care of any hassle of storage provisioning and eliminates any potential downtime which could lead to business and reputation loss.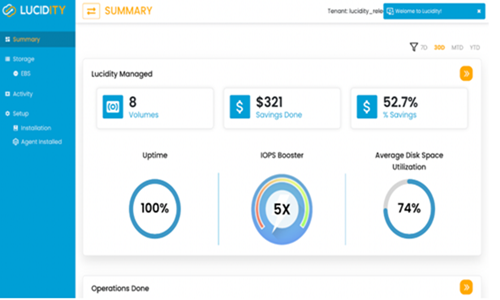 Dashboard: Lucidity simplifies cloud storage
Lucidity was envisioned by Vatsal Rastogi, who had gained extensive experience working as a developer at Azure, Microsoft and then later, working closely with the infrastructure team at Swiggy. He teamed up with Nitin Bhaduria, who has spearheaded the growth of multiple SaaS platforms from scratch, with his last role as the Head of Sales in Tracxn. Together, they established the company in 2021, as the duo brought Lucidity to life.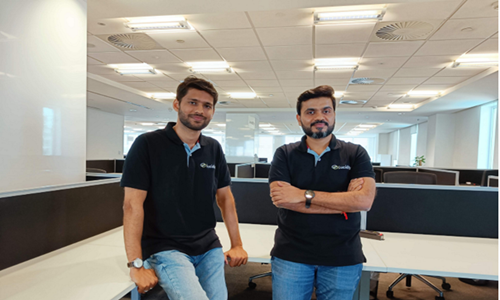 Lucidity founders: Vatsal Rastogi and Nitin Bhadauria
Nitin Bhadauria, co-founder of Lucidity, commented: "Post the pandemic, businesses flocked aggressively to the cloud to ensure business continuity. However, the vast majority resorted to a 'lift & shift of data' approach for a quick migration. Whilst this provided a quick fix, they remain elusive of the ROI promised by cloud vendors. Lucidity is unlocking the ROI of cloud storage at a click of a button.
"70% of the storage costs are wasted today because of manual cloud management and risks of downtime. And to add to that challenge, the skill curve required to adopt a cloud-first culture with the teams becomes an added barrier. Lucidity is solving these problems and much more".
Dirk van Quaquebeke, Managing Partner at BeeNext, commented: "Lucidity positions themselves at the interesting intersection of what I call cloud transient where large enterprises transition from on-prem to cloud and there is a lot of slack to be captured in terms of value. Lucidity is building something that will have a very strong GTM fit in a market that is extremely large and global in nature. How Lucidity identifies and solidifies their problem statement alongside their clients gives us a lot of comfort in them."
Andrew C. Martinez, Alpha Wave Global, stated, "Lucidity makes cloud storage management, not only more streamlined and reliable, but also increases cloud storage performance while saving a significant amount of money. What was more impressive for us is that this wasn't just a theoretical concept, but rather something on full display as proof of concepts with customers who are now onboarding on the Lucidity platform"
About Lucidity
Lucidity is the most trusted software-defined storage NoOps orchestrator. It unlocks cloud block storage capabilities making cloud storage reliable, performant, and economical with zero effort.
With its industry-first multi-cloud "Auto-Scaler", Lucidity helps Enterprises, DevOps and FinOps teams instantly observe their block storage to become 70% cheaper, 10X faster and eliminate downtime with zero code changes.Lucidity enables cloud optimization even for your legacy applications, as infra ops teams can now unlock cloud-native functionalities for block storage apps without any code changes.
IT managers, VP Infrastructure, IT Directors and leading CIOs alike have all trusted Lucidity in becoming cloud-ready and have adopted the NoOps cloud experience. If you would like to be a part of the NoOps cloud experience as well, visit us at www.lucidity.cloud
Contact Details
Lucidity
Bilal Mahmood
+44 7714 007257
Company Website