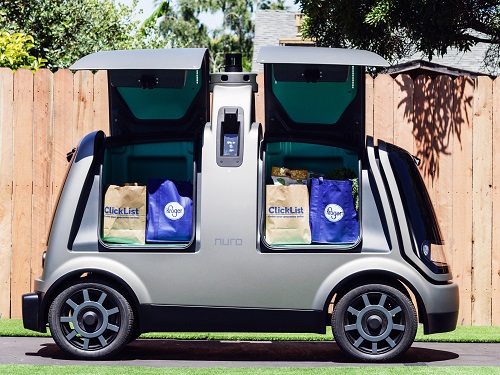 Kroger, the largest supermarket chain in America, is partnering with Nuro to test a driverless home delivery concept. Nuro, based out of Mountain View in California works towards applying AI, robotics and computer vision technology in association with local businesses that want to adopt innovative delivery methods. The partnership is reported to initiate a pilot this fall, although the market where it will be first tested has not been revealed.
According to sources, if Kroger's pilot is a success, U.S. citizens may witness autonomous grocery delivery buggies running on the roads. The vehicle is fully-electric, weighs close to 1,500 pounds and has sensors & cameras mounted on the roof. The battery packs and electric motors are installed beneath the floor and contribute to most of the weight. It is 40 inches wide and the interior sections can carry a total cargo weight up to 243 pounds, Nuro stated.
Reportedly, the Nuro pilot will involve customers placing same-day delivery orders using Kroger's existing online ordering system, but details regarding the customer order will be sent to Nuro's application instead of a delivery driver. Grocery products will be placed inside one or both of the interior compartments, depending on the size of the order. Customers will be able to access the sections using smartphone codes received by them on placing the order.
Kroger's Chief Digital Officer, Yael Cosset mentioned the company's delight regarding the potential of this innovative collaboration with Nuro in bringing the future of delivery service to consumers. Working together with a prominent technology company like Nuro will help in creating customer value by giving them access to convenient and faster delivery at a reasonable price, he further added.
Nuro's safe, affordable and reliable service will demonstrate the benefits of robotics in everyday life by combining with Kroger's successful brand name, Co-founder of Nuro Dave Ferguson commented. He believes that autonomous delivery will change the industry dynamics for local businesses.
Kroger has close to 2,800 stores across 35 states in the country, records indicate.