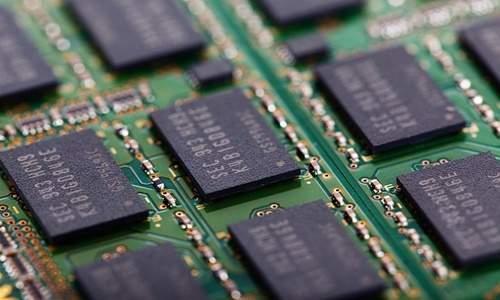 Leading South Korean memory chip maker, SK hynix, is reportedly anticipated to post poor third quarter (Q3) earnings next week, analysts claim. This is a sharp retreat from its past record-breaking performances as the global semiconductor industry witnesses a cyclical downturn.
According to the financial services firm FnGuide, the chipmaker's operating profit in Q3 is expected to come in at ₩2.5 trillion ($1.73 billion), a 38.8% drop on-year.
Many analysts in Seoul are expecting an even dimmer outlook, forecasting that SK hynix will miss their operating profit estimates.
Kim Dong-won, KB Securities analyst, stated that the chipmaker's Q3 profit is expected at ₩1.6 trillion ($1.1 billion), a 61.3% drop on-quarter and 61.1% drop on-year.
Dong-won further stated that this could lead to a deficit in the next quarter, estimating an operating loss of ₩186.9 billion ($129 million) owing to an oversupply and weakening memory chip prices.
Meanwhile, analyst Park Sung-soon at CAPE Investment Securities estimated that SK hynix's operating profit would be even lower, at ₩1.57 trillion ($1 billion), given the slow demand for semiconductor applications and growing pressures on chip buyers due to rising inventory.
Sung-soon also believes that the company will reduce supply amid changing market scenario as it is expected to make a loss in the next quarter and into the second quarter of 2023, given the declining DRAM prices.
Wi Min-bok, analyst at Daishin Securities, parroted the same view, adding that SK hynix will probably unveil a plan to cut back on capital spending and production during its earnings call next week to alleviate downward pressure on memory chip prices.
However, Min-bok also believes that SK hynix as well as Samsung Electronics, two leading global memory chip makers, could see improvement in terms of long-term profitability from 2023.
Min-bok commented that following an announcement by American chipmaker Micron that it will be reducing capacity and investment, the chip industry began adjusting its supply as well.
Micron posted weak earnings for Q4FY22, registering a 19.7% drop in sales on-year amid slow demand and high inflation, and will be reducing capital spending by almost 30% and chip equipment spending by almost 50%.
Source credit: https://www.koreatimes.co.kr/www/tech/2022/10/129_338329.html