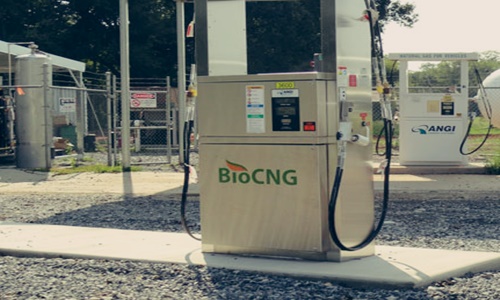 Reports indicate that the joint venture (JV) between Hamburg based logistics service provider Oiltanking GmbH and Indian Oil Corporation Ltd., IOT Infrastructure and Energy Services Ltd., is tweaking its biogas facility in Tamil Nadu for producing bio-CNG for vehicles. The company has further planned for setting up more greenfield projects to produce the clean vehicle fuel.
Vivek Venkatachalam, Managing Director of IOT Infrastructure and Energy Services, said in a statement that the company, which has been running a power plant on biogas, realized that it could convert the biogas into bio-CNG for automobiles if the company manages to increase its methane concentration.
Venkatachalam mentioned that the Namakkal unit of the company would begin to sell bio-CNG starting from July. The firm is aiming to set up additional five greenfield projects in the upcoming two to three years, besides this plant. The company is in talks with ventures that have agri waste which could be its feedstock, and each of these units would cost approx. Rs. 50 to 65 crores, he stated.
The company is also in talks with the oil marketing companies for selling the bio-CNG that it will produce. The idea is of setting up the producing units in clusters where the feedstock would be available and then selling the product in areas closer to the facility, Venkatachalam further added.
For the record, IOT Infrastructure and Energy Services Ltd. is a 50:50 JV that has been producing power from biogas at its plant at Namakkal, Tamil Nadu. The plant would allegedly be converted into a bio-CNG unit now, with the implementation of a technology developed by the research and development team of IOC, and an investment of Rs. 25 crore. The plant is expected to have a production output of 12,000 kg per day.