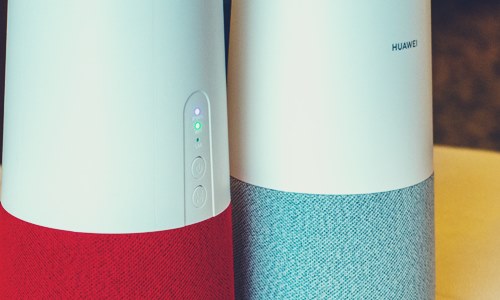 In partnership with Amazon, Huawei Technologies Co., Ltd has reportedly launched its first AI smart speaker integrated with Amazon Alexa. Sources familiar with the development claim that the AI cube comes with four microphones and is almost the same size as the Amazon Echo.
Unlike other smart speakers such as Google Home and Amazon Echo, the cylindrical shaped Huawei AI Cube will have a 4G mobile internet router which would enable users to insert their 4G LTE sim in the device to create WiFi hotspots, cites a report published by ET Telecom.
In addition to the 4G router, it's the Huawei Histen audio technology and enhanced AI abilities that set it apart from its competitors in terms of performance. Reportedly, Histen audio technology has enriched the speakers with features like virtual bass, adaptive gain control, linear phase equalizer, far-field-voice recognition and more.
The Chinese tech giant claimed the device is a high-end and groundbreaking speaker with a powerful sound system. The Wi-Fi functionality is an interesting feature and something Huawei has experimented with before. It is said to have a speed of 300Mbps and 802.11 ac, which can be limited by the 4G support in the user's area. This is estimated to be around 10Mbps to 70Mbps depending on how many people are using the network, which can't be more than 3 or 4 active users at a time.
Having it integrated with Alexa, the device will allow consumers to play music, operate smart home devices, and access more than 50,000 applications through voice commands.
The AI cube, which currently supports three languages including English, French and German, is set to be launched in Europe by the end of 2018. Although Huawei has no plans to sell its Alexa-powered models in China, the nation may receive something similar in the coming years.