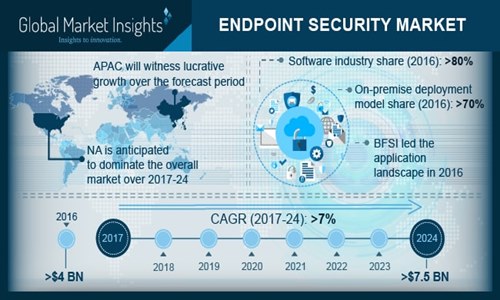 The robust adoption of cloud computing, digital technology, and network availability has indeed revolutionized endpoint security market in the last few years. Presently, several leading IT and software development companies are deploying advanced security systems to ensure continuity in organizational development. As the threats of cybercrimes and data breaches grow exponentially, the need of critical information protection for covering the security is also increasing. In addition, the advent of Internet of Things (IoT) is also supporting the potential growth of cybercrimes. In this regard, many regional governments are taking initiatives to improve their cybersecurity capabilities. At the same time, prominent technology giants are also constantly bringing new trends related to cyber security that are transforming digital infrastructures, propelling endpoint security industry outlook.
As of now, with the surging need of network security in various enterprise level applications, companies are defining new enterprise strategies to overcome the probable security threats. Government agencies have also been adopting new endpoint security facilities to support existing cloud computing infrastructure. The impact of the data protection initiatives taken by regulatory bodies on endpoint security market in terms of upcoming trends, business opportunities, and security benefits are elaborated below:
How government initiatives will turn out to be growth avenues for endpoint security industry firms
With the proliferation of various digital technology assisted devices such as smartphones, wearables, laptops, and tablets, the numbers of cyber security attacks have been increasing tremendously in the last few decades. As such cases tend to generate potential threats to many enterprise resources, the regional regulatory bodies are enforcing multiple standards and laws to control probable cyber-attacks. The deployment of data protection policies and numerous security technologies are thus generating lucrative business opportunities for the giants in endpoint security market.
Validating the abovementioned fact, in 2017, the Singapore government took initiatives to enhance the country's capability to face surging cyber threats. In accordance, approximately USD 1.7 billion was planned to be invested in technology contracts to develop a digital identity system and sensor platform. The estimated investment will strengthen the communication infrastructure of Singapore with the driveline of IoT devices and data centers. In addition to Singapore, UK and US governments have also framed guidelines to secure intranet networks from cyber attackers. With such stringent security policies, the regional governments are encouraging private as well as public organizations to adopt advanced endpoint security facilities on large scale.
The advent of innovative endpoint security trends to proliferate product demand over 2017-2024
In the last few years, endpoint data security has gained more importance for its effective role in combating data breaches and cyber-attacks. In order to further enhance endpoint security for the detection of malware and intruders, the giants in endpoint security market have been involved in the effective implementation of advanced technology facilities such as AI, machine learning, and IoT. For instance, a few days before, the security analytics company, Interset Inc. unveiled the latest version of an AI-assisted security analytics platform to help companies enhance their investigation and analytical capabilities.
Most of the organizations are facing challenges regarding data theft, owing to the lack of well-defined cyber security policies. On these grounds, the technology companies like Facebook, Skype, and Google have been undertaking suitable initiatives to overcome potential threats to confidential data. Additionally, for detecting and prohibiting cyber-attacks and data breaches, most of security service providers are adopting numerous business strategies such as joint ventures and collaborations. For instance, in May 2018, the U.S. based software company Ziften penetrated the Netherlands cybersecurity market through a business deal with the Microsoft Windows Defender Advanced Threat Protection (ATP) reseller, InSpark. The partnership has remarkably strengthened Ziften's stance in Europe endpoint security market, claim experts.
The unification of technology companies and security service providers is remarkably influencing endpoint security industry size. With reference to the aforementioned facts, it would be imperative to state that the regulatory strategies of regional governments and emerging technology trends will have a significant impact on product demand over the years ahead. The growing awareness about the risk associated with cyberattacks among the governments, security service providers, and medium & large size enterprises is likely to fuel endpoint security market, which will generate a revenue of more than USD 7.5 billion by the end of 2024.