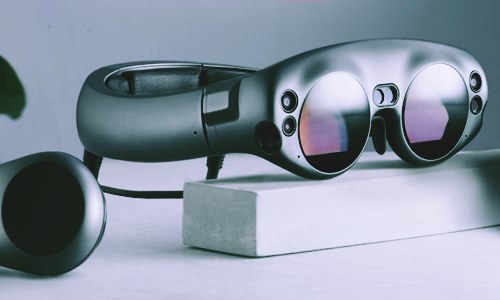 Magic Leap, the Florida based startup that created Magic Leap One, the awaited AR headset, has chosen AT&T as its sole wireless distributor for U.S. patrons ahead of the product's preliminary release. According to reliable sources, AT&T announced that it will be investing an unrevealed amount in the startup enabling John Donovan, AT&T CEO, to obtain observer rights on Magic Leap's board.
The multinational telecommunication giant's CEO indicated that this coalition will support the company's 5G network which is approaching operational capabilities in about a dozen cities by the end of 2018.
Magic Leap with its aim of bringing together the digital and physical worlds via wearable technology, has been working on an AR device for a while. Recently itunveiled that its initial device, Magic Leap One Creator Edition, will comprise a pair of glasses that are connected to a wearable lightweight computer and a wireless handheld controller.
Magic Leap has been releasing little teasers of the device's ability that allows it to overlay realistic imagery onto real-world environments. However, these videos have been consistently falling short in depicting the true look and feel of its content. A new video potentially showcasing the content is arranged to be released shortly.
AT&T's investment in the startup is being perceived as a vote of confidence. The company stated that it will support the startup's focus on transformational products and technology with its stores and network to herald in a new type of smart, context-aware computing-based human-computer interaction.
Rony Abovitz, Magic Leap CEO has been quoted to say that Magic Leap aligned with AT&T because both companies believe in a coalescedperspective of broadening edge computing, high-speed networks, and deep amalgamation with creative content.
The Magic Leap One Creator Edition will be delivered toqualified developers and designers, suggesting that AT&T will be beginning the sale of the devices to US patrons only on the basis of customer availability. The devices will be initially offered at the AT&T stores in Los Angeles, San Francisco, Chicago, Atlanta and Boston.