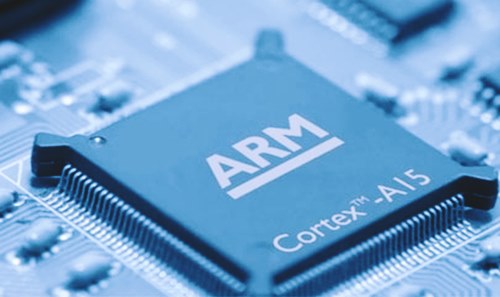 Arm, a leading supplier of microprocessor technology will apparently be using Samsung's facilities to manufacture its most advanced processing chip Cortex-A76. Arm had only recently announced the Cortex-A76 CPU, which the company claims will be faster than rival Qualcomm's best Cortex-A75 SoC processor. It promises to deliver speeds of over 3GHz as compared to the all-out 2.8GHZ of Qualcomm's Snapdragon 835 chip.
Arm believes that after Cortex-A76 chips are commercialized, the product would be able to compete with Intels Core i7 in terms of performance, indicating its applications for not only smartphones but laptops as well. Sources, however, stated that there is still quite some time before these powerful chips are integrated in devices and reach the hands of consumers.
Reports inform that Arm's chips will be manufactured on Samsung's 7nm Low Power Plus (7LPP) and 5nm Low Power Early (5LPP) process technologies in combination with Arm's own Artisan physical IP platform. The Arm Artisan physical IP platform consists of an HD logic architecture, a wide assembly of memory compilers and GPIO libraries of multiple voltages. Arm will also offer its POP IP acceleration technology to support the production.
Sources close to the matter revealed that initial productions are to begin on the 7LPP process in the latter half of 2018. Describing the production strategies, Samsung said that after 7LPP, the 5LPP process will enable a superior area scaling and ultra-low power. To enhance the design of chips at its facilities, Samsung is planning to invest up to $6 billion by 2020 for introducing its first extreme ultraviolet (EUV) lithography technology on the 7LPP process.
The vice president of Foundry Marketing Team for Samsung, Ryan Sanghyun Lee mentioned the company's obligation towards building a widespread and distinguished design network for the foundry customers.
Joining hands with Arm in the IP solutions sphere will be crucial for developing high-performance computing technology and also assist in accelerating the evolution of AI and Machine Learning capabilities, Lee added.