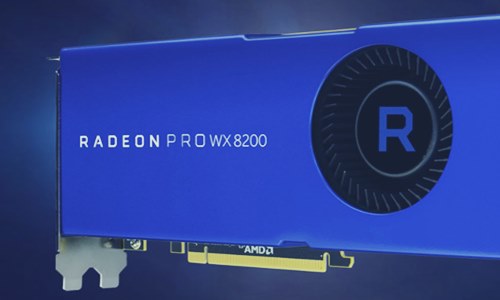 Advanced Micro Devices Inc., an American multinational semiconductor company has reportedly launched a graphics card called Radeon Pro WX 8200. The California based company unveiled its product at the SIGGRAPH 2018 conference that took place in Vancouver, Canada recently. Sources cite that this product would be utilized in workstations and aims to capture the visualization market.
According to AMD, the latest turbocharged graphics card allows graphics designers to fast-track rendering & design effortlessly, making it the best choice for the media & entertainment industry, manufacturing & design, and throughout the AEC (architecture, engineering, and construction) development process.
AMD Director of workstation graphics, Nick Pandher stated that AMD is investing in professional products to facilitate innovation, performance & reliability while aiming to match with the constantly changing demands of visualization. Pandher further claimed that the Radeon Pro WX 8200 can easily outperform its Nvidia rivals - the Nvidia Quadro P4000 and P5000, in the field of media & entertainment.
Research Analyst, Jon Peddie stated that AMD's new product is competitively positioned between the top-end and mid-range add-in boards (AIBs) offered by Nvidia. Peddie also pointed out that Radeon Pro WX 8200 carries two added attractions - the CPU & GPU ray tracing and the rendering ability that set it apart.
According to reports, these graphic cards would perform exceptionally with VR applications, CAD designs (Computer Aided Design) and mind-blowing animations. AMD stated that the card aims at fulfilling the rising visualization market demands as it boasts of 56 compute units with an ability to tackle up to 11 teraflops and additional support for 8k displays. According to company claims, several software partners like Adobe & Autodesk have already verified that their software products run successfully on the Radeon Pro WX 8200.
Reportedly, the Radeon Pro WX 8200 prices begin from $1000 and preorders will start from 13th of August.