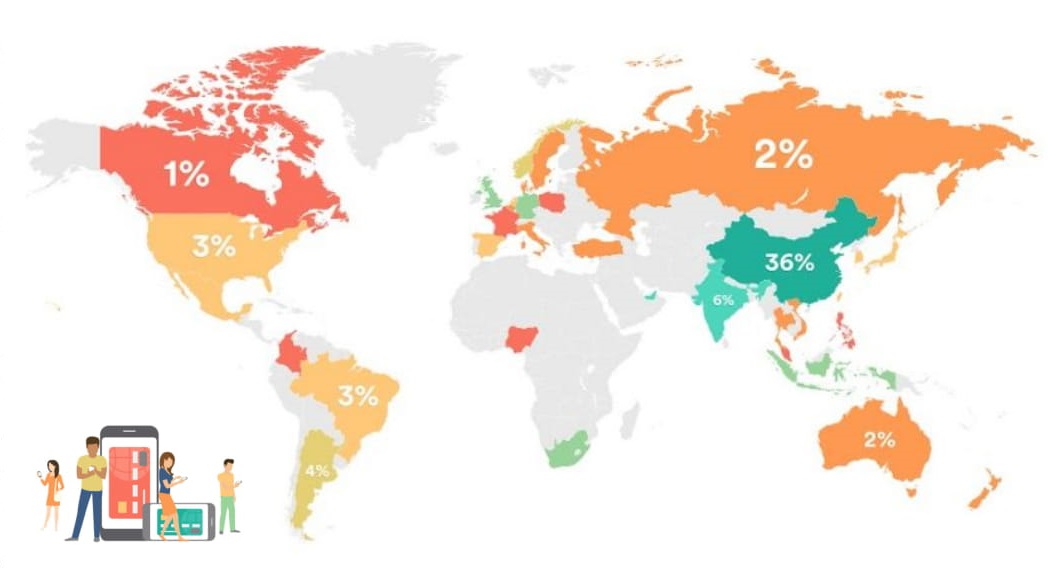 New infographic shows the popularity of mobile wallet payments in 36 countries around the world
Brits have the third highest e-wallet usage in the world, with 5% of all point of sale transactions made by mobile
China's consumers use digital wallets for a colossal 36% of transactions - nine times the global average of 4%
Expert Market, a leading
comparison site for card payment systems
, has created a new infographic which maps mobile wallet usage in 36 countries across the globe. The graphic highlights the countries that are leading the mobile wallet payment revolution, and even analyses the profile of the average e-wallet user. Forecasts predict that by 2022, just 17% of global payments willp be made by cash. Meanwhile, digital wallet usage will continue to rise, accounting for 28% of all point of sale transactions in just three years' time.
Expert Market
wanted to dig deeper into this burgeoning payment trend. Using the latest data from WorldPay and Statista, it created a new infographic presenting information on the YoY growth of mobile payments, the average spend, age, and income of mobile wallet users, and the global growth of popular mobile payment platforms Apple Pay, Samsung Pay and Android Pay.
Bronze for Brits in Mobile Wallet Race
The British have the third highest e-wallet usage in the world, with 5% of all point of sale transactions (one in every twenty) coming from a digital wallet user. The UK beats out European rivals France (1%), Spain (3%) and The Netherlands (3%), and even surpasses the USA (3%). Despite the UK's position as one of the top three e-wallet adopting countries, Brits are still heavily reliant on contactless cards for the moment, preferring to tap and wave plastic instead of using their phones. However, considering London's transport system is one of the few mobile-ready travel infrastructures in Europe, consumers in the capital may be persuaded sooner rather than later that physical wallets are best left behind as we enter the 2020s.
China Charges towards Cashless Future
Mobile wallets account for a staggering 36% of China's total point of sale transactions - that's more than a third of all payments in the country, and six times more than nearest rivals India (6%) and the UAE (6%)! Consumers in China use mobile wallets nine times more that the rest of their international colleagues, a colossal gap that puts China light years ahead of Europe in terms of cashless readiness.
Canada Cashed Out of Top Three
Canada fails to keep up with its American neighbours, crashing out at the bottom of the leaderboard. With only 1% of payments taken via mobile wallet, Canada languishes behind the USA (3%) and even South American trailblazers Brazil (3%) and Argentina (4%).
The Only Way is Up
Mobile wallet usage is increasing at every turn; the global number of users is up by an average of 140 million YoY, while the average annual spend per user is rising by an average of $124 YoY. Whereas Apple Pay was used for just $15 million worth of transactions in 2015, by 2017, it had grown nearly six times in size, accounting for $86 million worth of payments. With all data pointing to the increasing popularity of mobile wallet payments, businesses who fail to adapt risk losing out.
Rich, Mobile Wallet-Wielding Millennials
Expert Market
analysis reveals that most mobile wallet users (35%) are in the 25-34 'millennial' age bracket, and that the majority (40%) are high earners. This lucrative demographic will only grow in purchasing power, and is well worth businesses freshening their payment infrastructure for - especially when mobile wallet platforms like Apple Pay offer 'limitless' spend transactions, cited to up the average spend per transaction by an impressive 11%.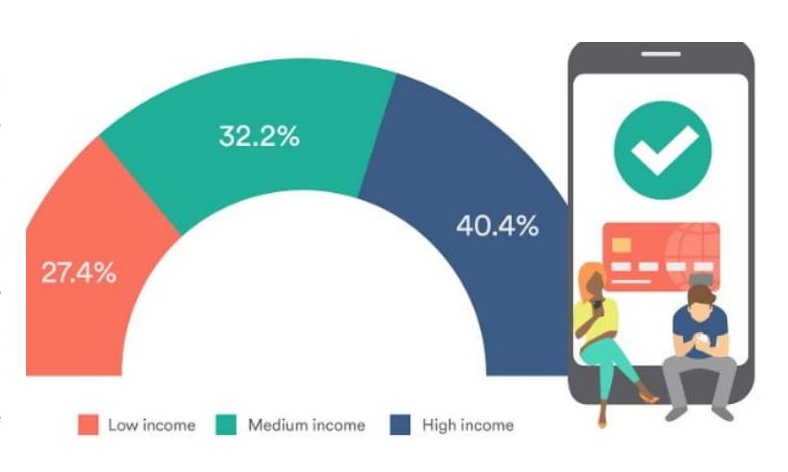 Lucy Crossfield of Expert Market comments: "Our study confirms it - the days of fumbling around in your wallet or your credit, debit and thousands of loyalty cards are seriously numbered. Mobile phones are becoming the no.1 device for everything from chatting to friends to watching TV to paying for all of ourworldly possessions, and why? Because it's just so much more convenient to have everything in one place -in today's world, convenience is king! "Granted, China is leagues ahead of the competition in terms of leaving physical wallets behind, but with projections estimating e-wallet user increases of over 140 million every year, it's just a matter of time before consumers the world over opt for the more streamlined convenience of digital wallets. Businesses better get ready, because this change is likely to hit sooner rather than later."
If you would like to use the infographic or any of the data from this study, please ensure you provide a link back to the original source: here
For all press enquiries please contact: Rachel Thompson
[email protected]