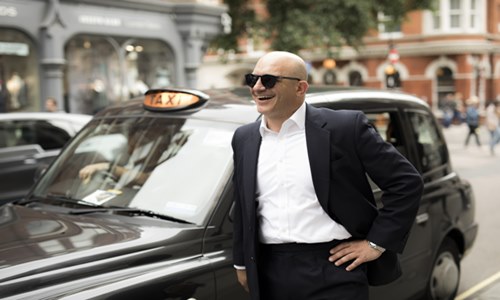 Francis Menassa, JAR Capital


Connectivity, more often associated with android devices and iPhones is on the cusp of a revolution. With the advent of 5g and the development of the Internet of Things (IoT), every electronic device, from fridges to cars has the potential to be connected to the internet.
In fact, according to Statista, a business data platform, the total installed base of Internet of Things - IoT-connected devices - is projected to amount to $75.44 billion worldwide by 2025, a fivefold increase in ten years.
Meanwhile, a Cisco report forecasts that 5G traffic will be more than ten percent (12 percent) of the total mobile traffic even by 2022. With these projections, there is no doubt there will be a meteoric rise in business opportunities via IoT.
The driver behind this growth, 5g, is the next generation of cellular technology, the latest in the series of wireless cellular networks that have been around since the 1980s. Offering faster speeds and more reliable connections, 5g is completely datacentric and designed for a fully connected world.
With enhanced network edge capabilities, data analytics, machine learning and AI, 5g will create a host of new revenue opportunities for providers, says Cisco; autonomous cars, virtual reality and robotics are potentially accessible to all.
While autonomous cars are still some way off, it is likely that we will soon see many more electrical products with a cellular component. In fact, there are some fully connected products such as smartwatches that already include cellular connectivity among its features.
For example, the Coolpad Dyno Smartwatch is the first in a series of family-oriented connected products from Coolpad and are used ostensibly to keep children safe and can be used if you have a young child and want to track his or her location. With the Dyno Smartwatch, Parents can set 'safe zones' with virtual perimeter alerts, communicate via voice and text messages and if a child is in a car with another carer, the smartwatch can alert the parent if that car is going over the speed limit.
Yet there are challenges
Launching and scaling global cellular connected products is a complex process. There are multiple network carriers worldwide working under different IT architectures and many manufacturers do not fully understand how to navigate their way within these cellular networks; ensuring seamless connectivity is essential for any product to work. Plus, they also need to be certified and fully compliant with security standards.
Even if a new product, such as a smartwatch or a burglar alarm is ready to launch, negotiating tariffs with each separate country is difficult. Added to that, organising customer support on an international basis can seem like an insurmountable challenge.
Platform capabilities
Nevertheless, these challenges can be addressed if product providers use an integrated service enablement platform. These platforms are essentially designed to manage the billing and payments subscriptions that are used by cellular enabled smart devices.
This means that a platform provides full connectivity services between the manufacturer, retailer - whether that is online such as Amazon or in store - and consumer. And all operating within the international telecommunications and payments systems frameworks. Even, in the case of the US, the payments framework can connect with federal authorities' tax systems.
The benefit of using a platform is that products can be scalable to many millions of devices on a global basis. It is a secure way to store information and there is a ready framework for carrier network and third-party integration. For example, connectivity partnerships, including pricing structures and distribution channels with cellular networks such as Telefonica and AT&T would already be in place. And because the infrastructure is already in place, it is possible for a product to be up and running in less than three days.
A platform also has the capabilities to secure attractive wholesale rates from carrier partners which can be passed on to manufacturers and vendors; it can activate and manage devices including billing and cash collection; provide subscription management and customer support service as well as technical and marketing support.
Connectivity crucial for success
There is no doubt that the introduction of IoT devices propels us into uncharted territory. Yet, using one software platform, one control panel and one set of integration tools will simplify the technical and commercial difficulties. Ultimately providing the seamless connectivity crucial to a product's success.